Terror attack foiled in Manipur, huge cache of arms seized, IED neutralised
In a major success, a planned terrorist attack in Manipur was foiled by security forces today. Acting on specific inputs, troopers of the Assam Rifles and Manipur police personnel launched
In a major success, a planned terrorist attack in Manipur was foiled by security forces today. Acting on specific inputs, troopers of the Assam Rifles and Manipur police personnel launched a search operation which led to the recovery of a cache of arms and ammunition from Chingmanglei village in Churachandpur district which included one 7.62 mm SLR Rifle, one 7.62 mm M-16 Rifle, one 7.62 mm Modified Rifle, two 7.62 mm SLR magazine, one Chinese hand grenade and 15 live rounds of different calibers.
Meanwhile, in another incident, the Assam Rifles along with the Manipur police averted a terror strike by recovering an IED near Kuljang village in Chandel district on Monday. The Assam Rifles in a statement issued today said that the IED was meant to target the local populace as well as the security forces along the Sugnu-Joupi Road.
After clearing the area for the presence of any explosives, the recovered IED was destroyed at the spot itself.
(Visited 11 times, 1 visits today)
First Published: 18th January, 2022 21:23 IST
COMMENTS
WE RECOMMEND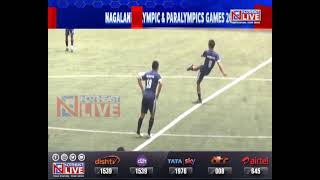 2nd edition of Nagaland Olympic & Paralympics Games 2022 begins today
𝐍𝐚𝐠𝐚𝐥𝐚𝐧𝐝 𝐎𝐥𝐲𝐦𝐩𝐢𝐜 𝐚𝐧𝐝 𝐏𝐚𝐫𝐚𝐥𝐲𝐦𝐩𝐢𝐜𝐬 𝐆𝐚𝐦𝐞𝐬 𝟐𝟎𝟐𝟐 | 𝐍𝐨𝐫𝐭𝐡𝐞𝐚𝐬𝐭 𝐋𝐢𝐯𝐞 | The 2nd edition of Nagaland Olympic and Paralympics Games 2022, "Football event", kick started today at Indira Gandhi stadium, Kohima, organized by Nagaland Olympic Association (NOA). (Visited 5 times, 1 visits today)
17th August 2022