Tawang celebrates the arrival of sacred Black Neck Cranes
The residents of Arunachal Pradesh's border district of Tawang celebrate the arrival of sacred black-necked cranes to their winter grounds in their district. As many as seven sacred black-necked cranes
The residents of Arunachal Pradesh's border district of Tawang celebrate the arrival of sacred black-necked cranes to their winter grounds in their district. As many as seven sacred black-necked cranes have been staying safely at Zemithang village in Tawang district.
Earlier, this month three black-necked cranes had stayed at this wintering ground for nearly a couple of weeks, later three cranes landed, and now the number has increased to seven. As per locals, this year the number of these rare visitors may increase higher than in previous years.
The black-necked crane is a resident of Inner Asia the regions of Xinjiang, Tibet as well the Chinese Proper provinces of Sichuan, Yunnan and Guizhou. It also occurs in Jammu and Kashmir and Arunachal Pradesh as well as a few sites in Bhutan.
The Black-necked Crane is found in Asia and breeds on the Tibetan Plateau and remote parts of India and Bhutan.
Revered in Buddhist traditions, the union territory of Ladakh has designated it as the state bird.
(Visited 1 times, 1 visits today)
First Published: 13th December, 2021 19:04 IST
COMMENTS
WE RECOMMEND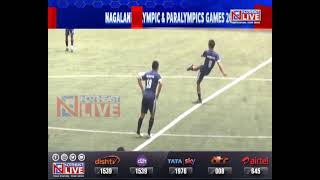 2nd edition of Nagaland Olympic & Paralympics Games 2022 begins today
𝐍𝐚𝐠𝐚𝐥𝐚𝐧𝐝 𝐎𝐥𝐲𝐦𝐩𝐢𝐜 𝐚𝐧𝐝 𝐏𝐚𝐫𝐚𝐥𝐲𝐦𝐩𝐢𝐜𝐬 𝐆𝐚𝐦𝐞𝐬 𝟐𝟎𝟐𝟐 | 𝐍𝐨𝐫𝐭𝐡𝐞𝐚𝐬𝐭 𝐋𝐢𝐯𝐞 | The 2nd edition of Nagaland Olympic and Paralympics Games 2022, "Football event", kick started today at Indira Gandhi stadium, Kohima, organized by Nagaland Olympic Association (NOA). (Visited 5 times, 1 visits today)
17th August 2022