Sikkim bans packaged milk from outside
In view of the safety of consumers in the state, the Sikkim government has temporarily banned packaged milk in pouches, packets or cans from outside the state in order to
In view of the safety of consumers in the state, the Sikkim government has temporarily banned packaged milk in pouches, packets or cans from outside the state in order to prevent the spread of the highly contiguous Covid-19.
The ban will come into effect from tomorrow, according to a notification issued by the state Animal Husbandry Department.
According to the notification, milk cans, pouches and packets from outside either do not meet the required quality standards or are inconsistent in their quality standards.
Also Read: Sikkim Covid Surge: CM Prem Singh Tamang takes stock of preparedness
Besides, it stated that such milk sources are not being regulated and monitored for quality assurance including its handling, processing, and maintenance of cold chain.
The notification further stated that due to the manual handling on the surface area of these milk pouches and cans, there is ahigh chance of spreading Covid-19 infection.
Worth mentioning here, Sikkim procure milk from places like Kalimpong, Darjeeling and Siliguri in West Bengal and also from within the State.
Watch: 
(Visited 1 times, 1 visits today)
First Published: 18th January, 2022 11:43 IST
COMMENTS
WE RECOMMEND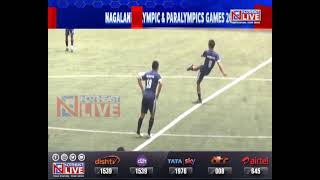 2nd edition of Nagaland Olympic & Paralympics Games 2022 begins today
𝐍𝐚𝐠𝐚𝐥𝐚𝐧𝐝 𝐎𝐥𝐲𝐦𝐩𝐢𝐜 𝐚𝐧𝐝 𝐏𝐚𝐫𝐚𝐥𝐲𝐦𝐩𝐢𝐜𝐬 𝐆𝐚𝐦𝐞𝐬 𝟐𝟎𝟐𝟐 | 𝐍𝐨𝐫𝐭𝐡𝐞𝐚𝐬𝐭 𝐋𝐢𝐯𝐞 | The 2nd edition of Nagaland Olympic and Paralympics Games 2022, "Football event", kick started today at Indira Gandhi stadium, Kohima, organized by Nagaland Olympic Association (NOA). (Visited 5 times, 1 visits today)
17th August 2022