Shillong: Adelbert Nongrum asks AL Hek to share responsibility for assaults on non-tribals
The debate over the assault on 'non-tribals' in Shillong is heating up with leaders pointing figures at each other in its wake. Reacting to comments on AL Hek North Shillong
The debate over the assault on 'non-tribals' in Shillong is heating up with leaders pointing figures at each other in its wake. Reacting to comments on AL Hek North Shillong Legislator Adelbert Nongrum has said that the BJP President should also take responsibility of the attacks on the nontribals.
AL Hek had strongly condemned the recent violent incidents against the minorities in Shillong. Hek had informed that the Governor will take up the matter with the Chief Minister and the Union Home Ministry and action will be taken. He had also criticised the 'govt inaction' on the matter as those responsible for such acts are going scot-free.
Nongrum said that the former cabinet minister who had made a comment saying that Government is responsible for not catching the criminals behind the attacks on the non tribals must also take responsibility because he was also part of the NPP-led MDA Government. He further said here that it is high time that stringent laws are made in this regard.
Referring to the recent protests in Shillong, Nongrum said that decades-old issues were raked up in the protests which is not right and everyone should instead try to promote brotherhood among the people of the state.
Meanwhile, Nongrum said that the state government should bring in strong laws to protect the rights of the indigenous people of Meghalaya. He said that the government must take steps so that indigenous communities can feel secure.
(Visited 4 times, 1 visits today)
First Published: 28th January, 2022 21:27 IST
COMMENTS
WE RECOMMEND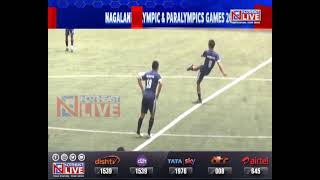 2nd edition of Nagaland Olympic & Paralympics Games 2022 begins today
𝐍𝐚𝐠𝐚𝐥𝐚𝐧𝐝 𝐎𝐥𝐲𝐦𝐩𝐢𝐜 𝐚𝐧𝐝 𝐏𝐚𝐫𝐚𝐥𝐲𝐦𝐩𝐢𝐜𝐬 𝐆𝐚𝐦𝐞𝐬 𝟐𝟎𝟐𝟐 | 𝐍𝐨𝐫𝐭𝐡𝐞𝐚𝐬𝐭 𝐋𝐢𝐯𝐞 | The 2nd edition of Nagaland Olympic and Paralympics Games 2022, "Football event", kick started today at Indira Gandhi stadium, Kohima, organized by Nagaland Olympic Association (NOA). (Visited 5 times, 1 visits today)
17th August 2022