Hamro Sikkim Party alleges medical negligence behind pregnant woman's death in STNM hospital
The Hamro Sikkim Party has accused the Sikkim Government of gross negligence in the health infrastructure of the state. Dr. Bina Basnet, the party's president, addressed the media on Sunday
The Hamro Sikkim Party has accused the Sikkim Government of gross negligence in the health infrastructure of the state.
Dr. Bina Basnet, the party's president, addressed the media on Sunday and cited a recent incident in which a 36-year-old pregnant woman and her unborn baby from Sikkim's Khamdong died due to alleged medical negligence.
The Hamro Sikkim Party President questioned Sikkim Health Minister Dr. Mani Kumar Sharma as to why the pregnant woman was made to travel to STNM Superspeciality Hospital in Gangtok when such delivery cases should be handled at District Hospital or Peripheral Health Centres.
Also Read: Sikkim Democratic Front meets DGP on 'deteriorating' law and order issue
Meanwhile, the Sikkim Government had already constituted a three-member committee to probe the incident asking it to submit its report by January 21.
The committee includes Health Director-General and Secretary Dr. Pempa Tshering Bhutia, Urban Development Secretary MT Sherpa, and STNM Hospital Medical Superintendent Dr. KB Gurung.
The 36-year-old pregnant woman who was 8 months pregnant had gone to the STNM Hospital with her husband for a regular check-up. While, Senior Gynecologist Dr. Parasmani Karki on the scene allegedly suggested her to have an ultrasound, while her unborn baby was detected with no heartbeat.
Also Read: Sikkim shuts educational institutions till January 31st amid Covid Surge
Following this, the patient was then allegedly advised to undergo surgery and rushed to the operating room.
However, the concerned doctor on duty who had completed his routine shift failed to appear to conduct the operation, leaving the patient to mercilessly suffer the entire night. The patient eventually passed away the next day morning.
Notably, the senior Gynecologist Dr. Parasmani Karki has been suspended for being absent on duty which resulted in the death of the pregnant woman and her unborn foetus.
Watch: 
(Visited 7 times, 1 visits today)
First Published: 17th January, 2022 15:41 IST
COMMENTS
WE RECOMMEND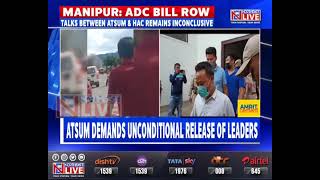 3 round of talks between ATSUM & HAC remains inconclusive
Despite 3 rounds of talks between the All Tribal Students Union Manipur and the Hill Areas Committee over the ADC Bill, 2021 and the arrest of 5 ATSUM leaders, efforts remained futile as the two sides failed to come to an agreement. (Visited 1 times, 1 visits today)
08th August 2022