Tripura Congress celebrates Netaji Bose's 125th Birth Anniversary
The Tripura Pradesh Congress Committee today observed the 125th Birth Anniversary Celebrations of Netaji Subhas Chandra Bose at its Agartala Office. During the programme, floral tributes were paid to Netaji
The Tripura Pradesh Congress Committee today observed the 125th Birth Anniversary Celebrations of Netaji Subhas Chandra Bose at its Agartala Office.
During the programme, floral tributes were paid to Netaji by members of the party led by state party president Birajit Sinha.
Speaking to Northeast Live during the occasion, Birajit Singha recalled the contributions of Netaji Bose in the Indian Freedom Struggle.
The Tripura Pradesh Congress Chief also said that this year the celebrations have been largely curtailed due to the Covid-19 restrictions.
Meanwhile, parliamentarians too paid floral tributes to Netaji on the occasion of his 125 birth anniversary today during a function held at the Central Hall of parliament house in New Delhi.
Also Read: Covid induced night curfew timing extended in Tripura
Prime Minister Narendra Modi, Lok Sabha speaker Om Birla and leader of the house in the Rajya Sabha Piyush goyal along with other dignitaries paid floral tributes at the portrait of Netaji Subhash Chandra bose.
A booklet containing the profile of Netaji, brought out to Hindi and English language by the Lok Sabha secretariat, was presented to the dignitaries.
Worth mentioning here, the portrait of Netaji Subhash Chandra bose was unveiled by the then president of India Dr. Neelam Sanjiva Reddy in the central hall of parliament house on January 23, 1978.
Moreover, several prominent political leaders cutting across party lines paid rich tributes to the great leader.
Watch: 
(Visited 1 times, 1 visits today)
First Published: 23rd January, 2022 17:02 IST
COMMENTS
WE RECOMMEND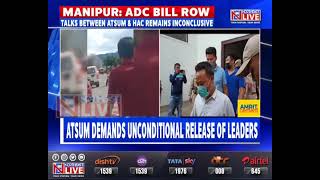 3 round of talks between ATSUM & HAC remains inconclusive
Despite 3 rounds of talks between the All Tribal Students Union Manipur and the Hill Areas Committee over the ADC Bill, 2021 and the arrest of 5 ATSUM leaders, efforts remained futile as the two sides failed to come to an agreement. (Visited 3 times, 3 visits today)
08th August 2022