MTV Supermodel: Arunachal's Roshni Dada Wins, Sikkim's Eksha Runner Up
Roshni Dada, Miss Arunachal 2019 has emerged as the winner of the MTV Supermodel of the year season 2 2021. Roshni scripts a double whammy as she is the first
Roshni Dada, Miss Arunachal 2019 has emerged as the winner of the MTV Supermodel of the year season 2 2021. Roshni scripts a double whammy as she is the first Arunachlee woman to participate in the glamourous show.
It is also a double win for the Northeast with Eksha Hangma Subba becoming the runner-up in the same contest. Even before winning the show, Eksha captured the imagination of, millions with her profile. Eksha, police by profession, is a boxer and biker as well.
In the finale which is going to be aired tonight Eksha after qualifying different rounds of the MTV Supermodel of the Year Season 2 had reached the final and where she was declared the first runners up.
The show was started with Eksha Hangma Subba, Swapna Priyadarshini, Muna Gauchan, Jayshree Roy, Siya Malasi, Joanne Fernandez, Nishi Bhardwaj, Anaika Nair, Roshni Dada, Thomsina D'Mello, Diksha Thapa, Monisha Sen, Pearl Seth, Palak Singhal, Kashish Ratnani.
The models have given tough competition to each other. In the season, we have also seen fights among the models. They have fought, not only for the game but personally too. The models have faced new and innovative challenges every week and gave their more than a hundred percent.
(Visited 24 times, 1 visits today)
First Published: 24th October, 2021 16:26 IST
COMMENTS
WE RECOMMEND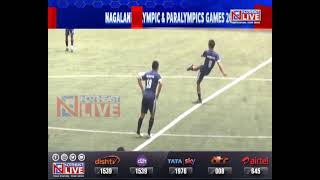 2nd edition of Nagaland Olympic & Paralympics Games 2022 begins today
𝐍𝐚𝐠𝐚𝐥𝐚𝐧𝐝 𝐎𝐥𝐲𝐦𝐩𝐢𝐜 𝐚𝐧𝐝 𝐏𝐚𝐫𝐚𝐥𝐲𝐦𝐩𝐢𝐜𝐬 𝐆𝐚𝐦𝐞𝐬 𝟐𝟎𝟐𝟐 | 𝐍𝐨𝐫𝐭𝐡𝐞𝐚𝐬𝐭 𝐋𝐢𝐯𝐞 | The 2nd edition of Nagaland Olympic and Paralympics Games 2022, "Football event", kick started today at Indira Gandhi stadium, Kohima, organized by Nagaland Olympic Association (NOA). (Visited 5 times, 1 visits today)
17th August 2022