Meghalaya: UDP vouches for Pre-poll alliance with regional parties
The United Democratic Party (UDP) has made its stand clear on pre-poll alliance in Meghalaya, party president Metbah Lyngdoh informed that pre-poll alliance will be only with regional parties, not
The United Democratic Party (UDP) has made its stand clear on pre-poll alliance in Meghalaya, party president Metbah Lyngdoh informed that pre-poll alliance will be only with regional parties, not national parties.
Speaking to the Media, UDP supremo Metbah Lyngdoh said as of now they have not knit a pre-poll alliance with any political party and they are open for any discussion.
He added they are yet to sit down with their previous partners the Hill State People's Democratic Party (HSPDP) whom they had a pre-poll alliance during the assembly elections in 2018.
Lyngdoh also ruled out any pre-poll alliance with any national parties saying, the pre-poll alliance will be only with a regional party "for now" as the agendas of regional parties and national parties are quite different.
It needs to be mentioned here that Congress Legislature Party (CLP) leader Ampareen Lyngdoh had confirmed that the Congress party was keen on going for a pre-poll alliance with the regional parties to drive out the "external forces" from the state.
(Visited 2 times, 1 visits today)
First Published: 15th January, 2022 15:15 IST
COMMENTS
WE RECOMMEND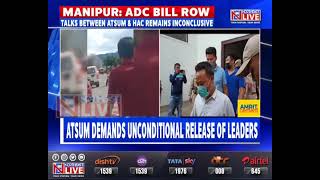 3 round of talks between ATSUM & HAC remains inconclusive
Despite 3 rounds of talks between the All Tribal Students Union Manipur and the Hill Areas Committee over the ADC Bill, 2021 and the arrest of 5 ATSUM leaders, efforts remained futile as the two sides failed to come to an agreement. (Visited 2 times, 2 visits today)
08th August 2022