Meghalaya celebrates 50th Statehood Day today
Meghalaya completed its 50 years of statehood today. And with this, the state organised a grand event at Shillong's JN Stadium to commemorate the 50th statehood day while strictly adhering
Meghalaya completed its 50 years of statehood today. And with this, the state organised a grand event at Shillong's JN Stadium to commemorate the 50th statehood day while strictly adhering to Covid-19 protocols.
The celebrations began with the lighting of lamp by Deputy Chief Minister Prestone Tynsong, Speaker Metbah Lyngdoh and CS at the JN Stadium at 11 am and concluded at 1.30 pm.
Chief Minister Conrad Sangma attended the event virtually as he is in home isolation after experiencing mild symptoms of Covid-19.
Prime Minister Narendra Modi addressing the statehood day celebrations in Shillong via video conferencing talked about the rich contributions that the people of Meghalaya have made to the development of the country.
Also Read: Assam-Meghalaya border talks: Meghalaya Congress seeks special session
The event saw beautiful cultural performances including "Shillong Chamber Choir".
Moreover, during the event, a documentation on the state's 50-year existence was also launched. The state emblem of Meghalaya was also unveiled by speaker Metbah Lyngdoh today.
Different areas of Shillong and other parts of the state have been decorated with wall paintings among others on the occasion.
Prime Minister Narendra Modi, President Ram Nath Kovind greeted the people of Meghalaya, Manipur, and Tripura as the three states are celebrating their statehood Day today.
All three states became full-fledged states on January 21, 1972, under the Northeastern Region Reorganisation Act of 1971.
"Greetings to the people of Manipur, Meghalaya and Tripura on their Statehood Days. These states are making vibrant contributions to India's development. Praying for their constant progress," Prime Minister Modi tweeted.
"Greetings to the people of Manipur, Meghalaya and Tripura on Statehood Day. These states, full of natural riches, represent the vibrant culture and unique traditions of our northeast. My best wishes to the citizens of these states for a happy and prosperous future," President Kovind tweeted.
(Visited 3 times, 1 visits today)
First Published: 21st January, 2022 15:50 IST
COMMENTS
WE RECOMMEND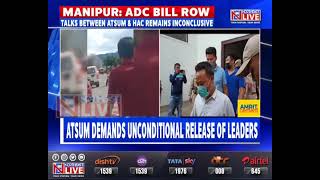 3 round of talks between ATSUM & HAC remains inconclusive
Despite 3 rounds of talks between the All Tribal Students Union Manipur and the Hill Areas Committee over the ADC Bill, 2021 and the arrest of 5 ATSUM leaders, efforts remained futile as the two sides failed to come to an agreement. (Visited 3 times, 3 visits today)
08th August 2022