Meghalaya: CM Conrad Sangma denies breaking any Covid protocols during R-Day
Meghalaya Chief Minister Conrad Sangma today lashed out at those who alleged that he had violated COVID protocols by taking part in the Republic Day celebrations. He said that it
Meghalaya Chief Minister Conrad Sangma today lashed out at those who alleged that he had violated COVID protocols by taking part in the Republic Day celebrations. He said that it is unfortunate that certain individuals are discussing such petty issues when the entire state is talking about the border talks and Meghalaya attaining 50 years of statehood.
Sangma added that he has huge responsibilities as a Chief Minister and clarified that he has maintained protocols every time. CM Sangma maintained that he had isolated himself on January 21 without taking any chance and refrained from going outside in public. The Meghalaya Chief Minister said it is sad that his integrity has been questioned.
Meanwhile, Meghalaya principal health secretary Sampath Kumar said that the basic idea is 5-days & 7-days isolation. The health official said that 5-days isolation is mandatory for those asymptomatic and 7-days isolation for those with symptoms.
(Visited 2 times, 1 visits today)
First Published: 27th January, 2022 23:19 IST
COMMENTS
WE RECOMMEND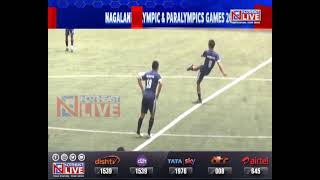 2nd edition of Nagaland Olympic & Paralympics Games 2022 begins today
𝐍𝐚𝐠𝐚𝐥𝐚𝐧𝐝 𝐎𝐥𝐲𝐦𝐩𝐢𝐜 𝐚𝐧𝐝 𝐏𝐚𝐫𝐚𝐥𝐲𝐦𝐩𝐢𝐜𝐬 𝐆𝐚𝐦𝐞𝐬 𝟐𝟎𝟐𝟐 | 𝐍𝐨𝐫𝐭𝐡𝐞𝐚𝐬𝐭 𝐋𝐢𝐯𝐞 | The 2nd edition of Nagaland Olympic and Paralympics Games 2022, "Football event", kick started today at Indira Gandhi stadium, Kohima, organized by Nagaland Olympic Association (NOA). (Visited 5 times, 1 visits today)
17th August 2022