Meghalaya gears up to celebrate 50th statehood day amid Covid restrictions
Meghalaya is all set to celebrate its 50th statehood day on January 21st. Preparations are going on in full swing for the celebrations to be held at the JN Stadium
Meghalaya is all set to celebrate its 50th statehood day on January 21st. Preparations are going on in full swing for the celebrations to be held at the JN Stadium in Shillong on the occasion. While due to Covid restrictions, the scale of the celebration has been curtailed.
However, elaborate arrangements are being made for a special celebration. The statehood Day celebrations will begin at the JN Stadium at 11 am On January 21st and conclude at 1.30 pm.
Prime Minister Narendra Modi who will be unable to attend the golden jubilee celebrations will convey a message to the state and its people which will be telecast during the celebration at JN Stadium. Meanwhile, Union Minister for Communications Ashwini Vaishnaw will attend the celebrations.
Due to Covid restrictions, however, there will only be 30% attendance at the JN Stadium while the districts will join in virtually. Meanwhile, different areas of Shillong and other parts of the state will be illuminated on the occasion of 50th statehood day.
Ahead of the historic 50th statehood day celebrations, Chief Minister Conrad Sangma saluted Meghalaya's founding fathers and also called upon everyone to work together for the overall welfare and development of the hill state. Sangma said that all efforts will be made to ensure that Meghalaya is among the top 10 states of the country in the next decade.
Meghalaya became a full-fledged state in 1971 after separating from Assam.
(Visited 3 times, 1 visits today)
First Published: 20th January, 2022 10:00 IST
COMMENTS
WE RECOMMEND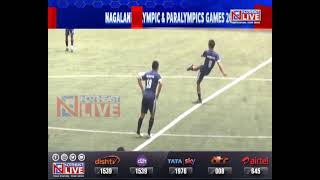 2nd edition of Nagaland Olympic & Paralympics Games 2022 begins today
𝐍𝐚𝐠𝐚𝐥𝐚𝐧𝐝 𝐎𝐥𝐲𝐦𝐩𝐢𝐜 𝐚𝐧𝐝 𝐏𝐚𝐫𝐚𝐥𝐲𝐦𝐩𝐢𝐜𝐬 𝐆𝐚𝐦𝐞𝐬 𝟐𝟎𝟐𝟐 | 𝐍𝐨𝐫𝐭𝐡𝐞𝐚𝐬𝐭 𝐋𝐢𝐯𝐞 | The 2nd edition of Nagaland Olympic and Paralympics Games 2022, "Football event", kick started today at Indira Gandhi stadium, Kohima, organized by Nagaland Olympic Association (NOA). (Visited 5 times, 1 visits today)
17th August 2022