Focusing & training hard for Commonwealth & Asian Games : MC Mary Kom
The desire to win Olympic gold has always been paramount for Northeast's ace pugilist MC Mary Kom. Mary, who is more popularly called 'Magnificent Mary' for her boxing prowess, is
The desire to win Olympic gold has always been paramount for Northeast's ace pugilist MC Mary Kom. Mary, who is more popularly called 'Magnificent Mary' for her boxing prowess, is confident to bring more laurels for the country in the Commonwealth Games and Asian Games. Northeast Live correspondent MK Henry caught up with the star boxer today during the opening ceremony of the 4th Open Men's Football Tournament 2022 held at Manipur's Kulbung village.
In a candid conversation, Mary said while she has won several medals in the 20 years of her boxing career, the challenge is more intense this time around, more so since she only has about two more years till her retirement. Well, Mary is currently training hard for the upcoming Commonwealth Games and Asian Games.
While acknowledging the fact that players can play only till 40 as per an IBA norm, Mary said she wishes to keep playing and representing the state as well as the country for years to come.
Mary even shared about her Tokyo Olympics experience and her disbelief as to how she could have missed the gold. A visibly dejected Mary said still doesn't know how things went wrong despite winning two rounds.
For those aspiring to be boxers like her, Mary stated she is planning to promote all budding talents, particularly from the economically weaker sections from the hill districts. Mary added that she always wanted to give opportunities to upcoming boxers, for which she opened her academy in Imphal. The ace pugilist said she herself hails from a humble background, but that never deterred her spirit to taste victory.
Well, having made the northeast and India proud several times, Mary has been an inspiration to all. She faced numerous challenges along the way, but sailed through all of them like a true warrior. And that, as she says is something can be done by all aspiring boxers regardless of their age and situations. Her message for all who want to make it big in any field was, if I can ,why can't you?
(Visited 1 times, 1 visits today)
First Published: 23rd January, 2022 10:07 IST
COMMENTS
WE RECOMMEND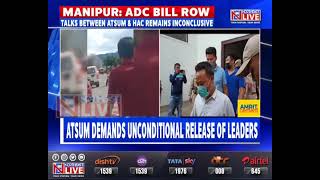 3 round of talks between ATSUM & HAC remains inconclusive
Despite 3 rounds of talks between the All Tribal Students Union Manipur and the Hill Areas Committee over the ADC Bill, 2021 and the arrest of 5 ATSUM leaders, efforts remained futile as the two sides failed to come to an agreement. (Visited 1 times, 1 visits today)
08th August 2022