Pre-poll violence in Manipur: Bomb hurled at intending Congress candidate's residence
In yet another instance of suspected pre-poll violence, unidentified miscreants allegedly hurled explosives at the residence of Congress' intending candidate from Khurai constituency, Kh Ratan Kumar, at Kangla Sangomsang in
In yet another instance of suspected pre-poll violence, unidentified miscreants allegedly hurled explosives at the residence of Congress' intending candidate from Khurai constituency, Kh Ratan Kumar, at Kangla Sangomsang in the Imphal East District of Manipur. 
Also Read: 14th Round of India-China military talks today
As per sources, the bomb exploded at Kh Ratan Kumar's residential gate in the wee hours of today. While some of the structures of the residence have been damaged owing to the impact of the explosion, there are no reports of casualties or injuries in the incident.
Meanwhile, a team of Manipur police has reportedly rushed to the site and an investigation into the incident is underway.
Also Read: COVID surge: Schools to remain close in Meghalaya till January 24
It may be mentioned here that with Manipur polls inching closer, instances of pre-poll violence are on the rise in the state. On Monday, Abujam John and Abujam Tomba, two close aides of Manipur Agriculture Minister O. Lukhoi Singh, were shot dead in a suspected instance of pre-poll violence at the Samurou area of Wangoi Assembly Constituency in Imphal West District.
WATCH:
(Visited 3 times, 1 visits today)
First Published: 12th January, 2022 14:06 IST
COMMENTS
WE RECOMMEND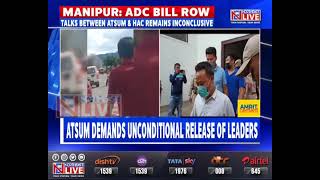 3 round of talks between ATSUM & HAC remains inconclusive
Despite 3 rounds of talks between the All Tribal Students Union Manipur and the Hill Areas Committee over the ADC Bill, 2021 and the arrest of 5 ATSUM leaders, efforts remained futile as the two sides failed to come to an agreement. (Visited 4 times, 4 visits today)
08th August 2022