Manipur Assembly Elections: Repolling takes place in 7 stations
Repolling for Manipur Assembly Elections took place in 7 polling stations across 5 assembly constituencies in Thoubal, Ukhrul, and Senapati districts. These include Ukhrul (E-2) polling station in Ukhrul assembly
Repolling for Manipur Assembly Elections took place in 7 polling stations across 5 assembly constituencies in Thoubal, Ukhrul, and Senapati districts. These include Ukhrul (E-2) polling station in Ukhrul assembly constituency, Kalhang and Peh polling stations in Chingai assembly constituency, Ngamju polling station in Karong assembly constituency, Yangkhullen and Mao Marafii polling stations in Tadubi assembly constituency, and Wangjing Hodamba polling station in Wangjing Tentha assembly constituency.
The decision for repoll was taken following reports of violence and the damaging of EVMs by miscreants on the day of polling in Phase 2 of the election held across 1,247 polling stations on March 5.
The polling which began at 7 am concluded at 4 PM.
(Visited 3 times, 1 visits today)
First Published: 8th March, 2022 16:43 IST
COMMENTS
WE RECOMMEND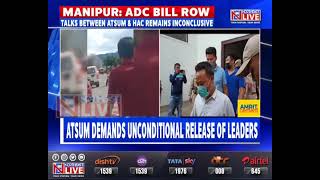 3 round of talks between ATSUM & HAC remains inconclusive
Despite 3 rounds of talks between the All Tribal Students Union Manipur and the Hill Areas Committee over the ADC Bill, 2021 and the arrest of 5 ATSUM leaders, efforts remained futile as the two sides failed to come to an agreement. (Visited 1 times, 1 visits today)
08th August 2022