Drugs worth Rs 1,228 Cr seized in Manipur in 2022: CM Biren Singh
First Published: 30th December, 2022 22:15 IST
At least 703 people were arrested in drugs-related cases, with 497 cases registered this year alone
Manipur police have seized drugs and narcotics worth Rs 1,228 crore in the international market in the year 2022 and at least 703 people were arrested in drugs-related cases, with 497 cases registered this year alone, said Chief Minister N Biren Singh today.
Delving into the details, CM Biren Singh said that 500 kg of brown sugar and 560 kg of opium and heroin were among the drugs that were seized during the state Government's war on drugs.
Besides, 1,780 acres of the illicit poppy plantation were destroyed this year.
The Chief Minister further added that when compared to 2021 wherein poppy cultivation was practiced on 6,742 acres of land, during the survey this year, only 1,118 acres of land were found cultivated with poppy, pointing to the fact that the government has been partially successful in combating poppy menace with support of the people.
Furthermore, CM Biren Singh maintained that his government will never compromise when it comes to cracking down on drugs and corruption.
Also Watch:
COMMENTS
WE RECOMMEND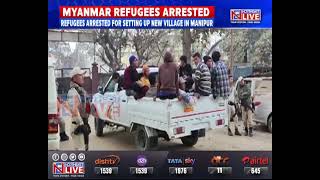 80 illegal immigrants arrested in Manipur
The District Administration of Tengnoupal led by Deputy Commissioner Ranjan Yumnam and Superintendent of Police B Golianmang arrested as many as 80 illegal refugees from Myanmar who had set up a new village inside Manipur.
28th January 2023