Black Rice: The superfood from Manipur, with a GI tag
Chak Hao, also known as black rice, grown in Manipur has captured the imagination of gastronomes across the world. From the fields of Manipur, tonnes have reached the tables of
Chak Hao, also known as black rice, grown in Manipur has captured the imagination of gastronomes across the world. From the fields of Manipur, tonnes have reached the tables of Europe getting all the gastronomical attention it deserves.
Chak Hao has an interesting history of its own. In China, it was only grown and reserved for the consumption of the Emperor for both its unique colour and properties thus giving it the moniker of Forbidden Rice, as commoners were not allowed to eat it.
Black rice is known for its high nutritional content especially anthocyanin, which, incidentally, also gives a deep dark hue to the rice. Being rich in vitamins, minerals without having gluten content made it popular among the fitness enthusiasts of India and abroad.
With the popularity of Chak Hao came the danger of Manipur losing its uniqueness as a grower of the Black rice variety. Many places in India started procuring the seeds and growing them in their respective regions flooding the market with the non 'Manipuri' produce.
It was then the Consortium of Producers of Chakhao applied for a GI tag. Facilitated by the Government of Manipur and was facilitated by the Department of Agriculture, Government of Manipur, and NERAMAC the black rice of Manipur bagged the GI tag in May 2020.
Black rice grown in Manipur is known for its unique aroma and is traditionally used to make the Chak Hao kheer. Now Indian restaurants are using it to create risotto dishes, puddings, salads, and ice-creams.
For now, the GI tag has ensured that Black Rice grown in areas outside Manipur affects its uniqueness. Farmers in Manipur can rest easy that their traditional ways of producing the black rice which lends the black rice its unique aroma and properties will somehow be safeguarded.
(Visited 13 times, 1 visits today)
First Published: 31st October, 2021 15:34 IST
COMMENTS
WE RECOMMEND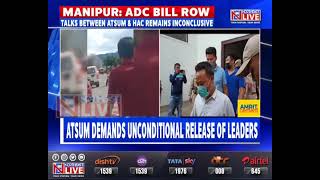 3 round of talks between ATSUM & HAC remains inconclusive
Despite 3 rounds of talks between the All Tribal Students Union Manipur and the Hill Areas Committee over the ADC Bill, 2021 and the arrest of 5 ATSUM leaders, efforts remained futile as the two sides failed to come to an agreement. (Visited 3 times, 3 visits today)
08th August 2022