Manipur Elections: Christian voters want Sunday poll day to be rescheduled
Fixation of poll dates on a Sunday for Manipur elections has turned out to be a big inconvenience for voters of Christian majority districts. After the Election Commission of India
Fixation of poll dates on a Sunday for Manipur elections has turned out to be a big inconvenience for voters of Christian majority districts.
After the Election Commission of India announced the dates of the assembly polls for Manipur, and four other states on January 8, the Chief Electoral Officer, Manipur Rajesh Agarwal informed that elections as many as 38 Assembly seats spread across five districts will be held in the first phase on February 27 while polling for the remaining 22 seats in 6 districts will be held in the second phase on March 3.
Imphal East, Imphal West and Bishnupur, Hill Districts including Churachandpur and Kangpokpi will go to polls in the first phase which falls on Sunday and that has become a big inconvenience for the voters of the said Christian majority districts.
Also Read: Manipur elections 2022: State to go for polls on February 27 and March 3
Following this, former local daily editor and President of The Manipur Hill Journalists Union, Th. Thangzalian who is also an intending candidate has submitted a memorandum to the Chief Election Commissioner.
Thangzalian said, he has urged the ECI to reconsider the day of polling for the first phase to any day other than Sunday.
Thangzalian further added Sunday sacred to the Christian faith and it is paramount to their belief due to which they ceased their worldly labour for a day out of seven as commanded in the Holy Bible.
Assembly elections in Manipur for will be held for a total of 60 Assembly constituencies on February 27 and March.
Watch: 
(Visited 3 times, 1 visits today)
First Published: 15th January, 2022 10:50 IST
COMMENTS
WE RECOMMEND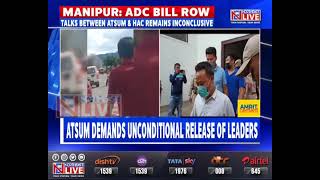 3 round of talks between ATSUM & HAC remains inconclusive
Despite 3 rounds of talks between the All Tribal Students Union Manipur and the Hill Areas Committee over the ADC Bill, 2021 and the arrest of 5 ATSUM leaders, efforts remained futile as the two sides failed to come to an agreement. (Visited 3 times, 3 visits today)
08th August 2022