Landless tea garden workers in Tripura to get 3 gandas of land: CM Biplab Kumar Deb
Tripura Chief Minister Biplab Kumar Deb yesterday made key announcements for the upliftment of tea garden workers. In fact, this is a big development push by the BJP as the
Tripura Chief Minister Biplab Kumar Deb yesterday made key announcements for the upliftment of tea garden workers. In fact, this is a big development push by the BJP as the Tripura Chief Minister announced that 3 gandas of land would be allotted to landless tea garden workers.
Moreover, they shall be covered under free health insurance, social pensions, and education facilities with discounted loans for higher education without any collateral.
Also Read: Tripura : Greater Tipraland Rally rocks Agartala
Besides, the minimum daily wage of the tea workers in the state shall be increased to Rs 176.
CM Biplab Deb added that to further improve the financial condition of the tea workers the state government has taken initiatives to resume the activities of various defunct tea estates.
Watch:
(Visited 1 times, 1 visits today)
First Published: 16th March, 2022 11:29 IST
COMMENTS
WE RECOMMEND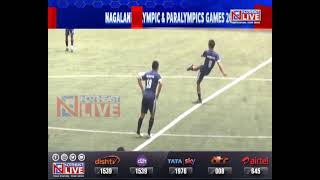 2nd edition of Nagaland Olympic & Paralympics Games 2022 begins today
𝐍𝐚𝐠𝐚𝐥𝐚𝐧𝐝 𝐎𝐥𝐲𝐦𝐩𝐢𝐜 𝐚𝐧𝐝 𝐏𝐚𝐫𝐚𝐥𝐲𝐦𝐩𝐢𝐜𝐬 𝐆𝐚𝐦𝐞𝐬 𝟐𝟎𝟐𝟐 | 𝐍𝐨𝐫𝐭𝐡𝐞𝐚𝐬𝐭 𝐋𝐢𝐯𝐞 | The 2nd edition of Nagaland Olympic and Paralympics Games 2022, "Football event", kick started today at Indira Gandhi stadium, Kohima, organized by Nagaland Olympic Association (NOA). (Visited 5 times, 1 visits today)
17th August 2022