Tripura: 5-day Laining-thou Puthiba Lai Haraoba festival concludes
The five day long Laining-thou Puthiba Lai Haraoba festival at Puthiba Devata Bari in Agartala's Abhoynagar concluded on Monday. State Chief Minister Biplab Kumar Deb along with Tribal Welfare Minister
The five day long Laining-thou Puthiba Lai Haraoba festival at Puthiba Devata Bari in Agartala's Abhoynagar concluded on Monday.
State Chief Minister Biplab Kumar Deb along with Tribal Welfare Minister Mevar Kumar Jamatia took part in the closing ceremony of the festival organised by the Puthiba Lai Haraoba Committee
Lai Haraoba can be literally translated to 'Pleasing the Gods' and is one of the most significant keys to the religion, culture and history of the Meitei Manipuri community.
It is held to appease traditional deities, with the aim to keep alive the cultural heritage of those residing away from their home state and educate the new generation about their cultural heritage.
 Oral literature, music and dance, ceremonial and ritual, that presents a unique pre-Hindu or Vaishnav religion of the Manipuri people are part of the festival. 
Also Read:Tripura: All classes from pre-primary to class 7 suspended amid Covid scare
Some also believe it is the festival of Lord Shiva and his consort Goddess Parvati.
The Manipuri community believes that Lai Haraoba dance represents the concept of the beginning of the world.
Hymns are narrated on the creation of the universe and accompanied with dances shown through different 'khut-theks' or hand movements.
Notably, during the programme Chief Minister Biplab Kumar Deb and the Tribal Welfare Minister emphasized the strong relations between Tripura and Manipur, and that such festivals further strengthen the relationship between the two states.
Watch:
(Visited 6 times, 1 visits today)
First Published: 18th January, 2022 12:19 IST
COMMENTS
WE RECOMMEND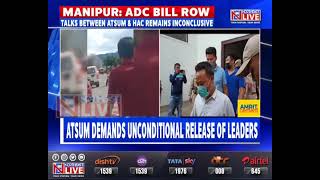 3 round of talks between ATSUM & HAC remains inconclusive
Despite 3 rounds of talks between the All Tribal Students Union Manipur and the Hill Areas Committee over the ADC Bill, 2021 and the arrest of 5 ATSUM leaders, efforts remained futile as the two sides failed to come to an agreement. (Visited 3 times, 3 visits today)
08th August 2022