Nagaland: Demand for Shamator district, Yimkhiung Tribal Council ups ante
The agitation seeking the creation of a full-fledged Shamator district has gained momentum. The Yimkhiung Tribal Council(YTC) which is spearheading the stir has imposed several restrictions in Shamator sub-division including
The agitation seeking the creation of a full-fledged Shamator district has gained momentum. The Yimkhiung Tribal Council(YTC) which is spearheading the stir has imposed several restrictions in Shamator sub-division including an indefinite shutdown of the Likimro Hydro Electric Project. Not only this, the council has also prohibited government officials, researchers, tourists from visiting the Fakim Wildlife Sanctuary, Mt Saramati, stone caves at Mimi village and Salomi. The YTC has also suspended activities at the sites indefinitely.
The Council said that it has begun the first phase of agitation on Monday by shutting down government offices and business establishments for 3 hours in resentment against the alleged failure of the state government in declaring Shamator as a full-fledged district. It may be mentioned that Nagaland got 3 new districts of Niuland, Tseminyu and Chumukedima on December 21 last year taking the total number of districts to 15.
As already reported by Northeast Live the Yimkhiung Tribal Council(YTC) began its first phase of agitation in all the Administrative Headquarters of Yimkhiung inhabited areas, to protest against the state government's failure to declare Shamator Sub Division into a full-fledged district before 31st December 2021.
The 1st phases of agitation were held in Shamator and Chessore Subdivisions under Tuensang district and in Pungro Sub Division under Kiphire district.
The demand of the Yimkhiung Naga tribe for up-gradation began in 2003 and since then several representations and reminder letters were submitted to the state government by the Yimkhiung Tribal council.
Even in December last year, The Yimkhiungs had  organized a public rally, where they had submitted a memorandum to the state government through the district administrations.
(Visited 1 times, 1 visits today)
First Published: 6th January, 2022 9:15 IST
COMMENTS
WE RECOMMEND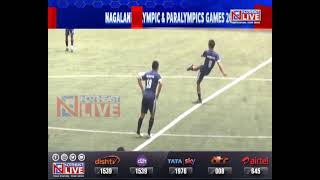 2nd edition of Nagaland Olympic & Paralympics Games 2022 begins today
𝐍𝐚𝐠𝐚𝐥𝐚𝐧𝐝 𝐎𝐥𝐲𝐦𝐩𝐢𝐜 𝐚𝐧𝐝 𝐏𝐚𝐫𝐚𝐥𝐲𝐦𝐩𝐢𝐜𝐬 𝐆𝐚𝐦𝐞𝐬 𝟐𝟎𝟐𝟐 | 𝐍𝐨𝐫𝐭𝐡𝐞𝐚𝐬𝐭 𝐋𝐢𝐯𝐞 | The 2nd edition of Nagaland Olympic and Paralympics Games 2022, "Football event", kick started today at Indira Gandhi stadium, Kohima, organized by Nagaland Olympic Association (NOA). (Visited 5 times, 1 visits today)
17th August 2022