Crackdown on dalals in Assam: unauthorised petitioners arrest
The Assam government under Chief Minister Himanta Biswa Sarma is carrying on with its crackdown against corruption. After a crackdown on land brokers, now the authorities are carrying on a
The Assam government under Chief Minister Himanta Biswa Sarma is carrying on with its crackdown against corruption.
After a crackdown on land brokers, now the authorities are carrying on a tirade against illegal petitioners who file unauthorised petitions, frame FIRs outside police stations in lieu of money.
With this intention, authorities zeroed in on persons who have filed such illegal petitions across Assam and have arrested a total of 242 persons since yesterday.
Also Read: Assam's active covid tally stands at 17,777 with 3,390 fresh cases in 24 hours
All arrested persons have been charged with filing illegal petitions outside the purview of police stations.
Reportedly, many of the arrested persons are police personnel.
It is to be noted that Chief Minister Sarma had announced that he would adopt a zero-tolerance policy against all forms of corruption in the state.
Recently the Assam CM had called upon a crackdown on persons who are filing illegal petitions.
Watch: 
(Visited 1 times, 1 visits today)
First Published: 16th January, 2022 13:42 IST
COMMENTS
WE RECOMMEND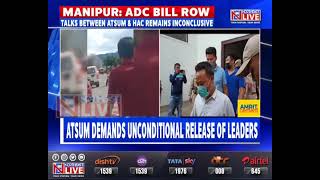 3 round of talks between ATSUM & HAC remains inconclusive
Despite 3 rounds of talks between the All Tribal Students Union Manipur and the Hill Areas Committee over the ADC Bill, 2021 and the arrest of 5 ATSUM leaders, efforts remained futile as the two sides failed to come to an agreement. (Visited 3 times, 3 visits today)
08th August 2022