Assam MLA continues his anti-cop tirade, CM Sarma issues fresh counsel
Even as Chief Minister Himanta Biswa Sarma warned Bihpuria MLA Amiya Kumar Bhuyan's for his threatening remarks on Bihpuria police station OC Puspakamal Borah, the MLA has yet again made
Even as Chief Minister Himanta Biswa Sarma warned Bihpuria MLA Amiya Kumar Bhuyan's for his threatening remarks on Bihpuria police station OC Puspakamal Borah, the MLA has yet again made a sensational statement saying that the cop should not face dire consequences during his tenure as an Officer in-charge.
Notably, this fresh statement by the MLA from Assam has come only a day after an audio clip of him slamming the OC Puspakamal Borah was leaked.
Earlier too CM Himanta Biswa Sarma had taken an exception to the MLA's conduct stating that past trends will not be allowed to continue.
Audio clippings had gone viral where Bihpuria MLA Amiya Kumar Bhuyan is purportedly heard saying that 60, 000 electorates who have elected him will thrash the cop to death.
It all began when Bihpuria police station Officer-in-Charge Puspakamal Borah picked up a few suspected persons involved in vandalizing equipment of a construction agency.
The Bihpuria PS OC stated that police had swung into action after the filing of an FIR by the construction agency following which a few persons were picked up.
Another viral video of the same MLA  getting a 'moral lesson' by a lady SI cop Jonmani Rabha has also gone viral. Bhuyan had called her up to force her to release a confiscated motorboat that was allegedly plying illegally in his constituency. In the purported clip the lady SI was heard urging the MLA to behave as a representative of the people and force officials to break rules framed.
(Visited 5 times, 1 visits today)
First Published: 17th January, 2022 22:47 IST
COMMENTS
WE RECOMMEND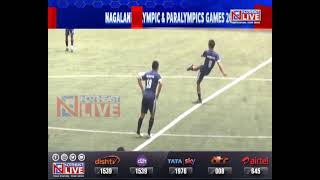 2nd edition of Nagaland Olympic & Paralympics Games 2022 begins today
𝐍𝐚𝐠𝐚𝐥𝐚𝐧𝐝 𝐎𝐥𝐲𝐦𝐩𝐢𝐜 𝐚𝐧𝐝 𝐏𝐚𝐫𝐚𝐥𝐲𝐦𝐩𝐢𝐜𝐬 𝐆𝐚𝐦𝐞𝐬 𝟐𝟎𝟐𝟐 | 𝐍𝐨𝐫𝐭𝐡𝐞𝐚𝐬𝐭 𝐋𝐢𝐯𝐞 | The 2nd edition of Nagaland Olympic and Paralympics Games 2022, "Football event", kick started today at Indira Gandhi stadium, Kohima, organized by Nagaland Olympic Association (NOA). (Visited 5 times, 1 visits today)
17th August 2022