Assam-Meghalaya border row: Key CM level meet held in Guwahati
In a bid to resolve the long pending Assam-Meghalaya border dispute, Assam Chief Minister Himanta Biswa Sarma held a crucial closed door meeting with his Meghalaya counterpart, Conrad Sangma, in
In a bid to resolve the long pending Assam-Meghalaya border dispute, Assam Chief Minister Himanta Biswa Sarma held a crucial closed door meeting with his Meghalaya counterpart, Conrad Sangma, in Guwahati on January 17. When asked about the details of the meeting, the Meghalaya chief minister said that efforts are being made to improve on the points made by both the state governments. Conrad Sangma, however, added that today's meet was an unofficial one.
Conrad Sangma added that the border issue is a very complicated one and informal meetings are being held as part of the sincere efforts made by both states to resolve the dispute at the earliest.
Besides, Conrad Sangma said that both the state governments' desire to arrive at a conclusion on the 6 areas of dispute out of the total 12, before January 21st.
Meanwhile, responding to a query on the demand for convening a special session on the border issue, Sangma said the government is already in touch with the concerned stakeholders in this regard.
Assam govt has called for an all-party meet today to discuss the interstate border issue.
(Visited 2 times, 1 visits today)
First Published: 18th January, 2022 10:46 IST
COMMENTS
WE RECOMMEND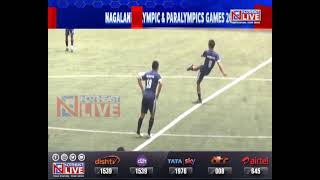 2nd edition of Nagaland Olympic & Paralympics Games 2022 begins today
𝐍𝐚𝐠𝐚𝐥𝐚𝐧𝐝 𝐎𝐥𝐲𝐦𝐩𝐢𝐜 𝐚𝐧𝐝 𝐏𝐚𝐫𝐚𝐥𝐲𝐦𝐩𝐢𝐜𝐬 𝐆𝐚𝐦𝐞𝐬 𝟐𝟎𝟐𝟐 | 𝐍𝐨𝐫𝐭𝐡𝐞𝐚𝐬𝐭 𝐋𝐢𝐯𝐞 | The 2nd edition of Nagaland Olympic and Paralympics Games 2022, "Football event", kick started today at Indira Gandhi stadium, Kohima, organized by Nagaland Olympic Association (NOA). (Visited 5 times, 1 visits today)
17th August 2022